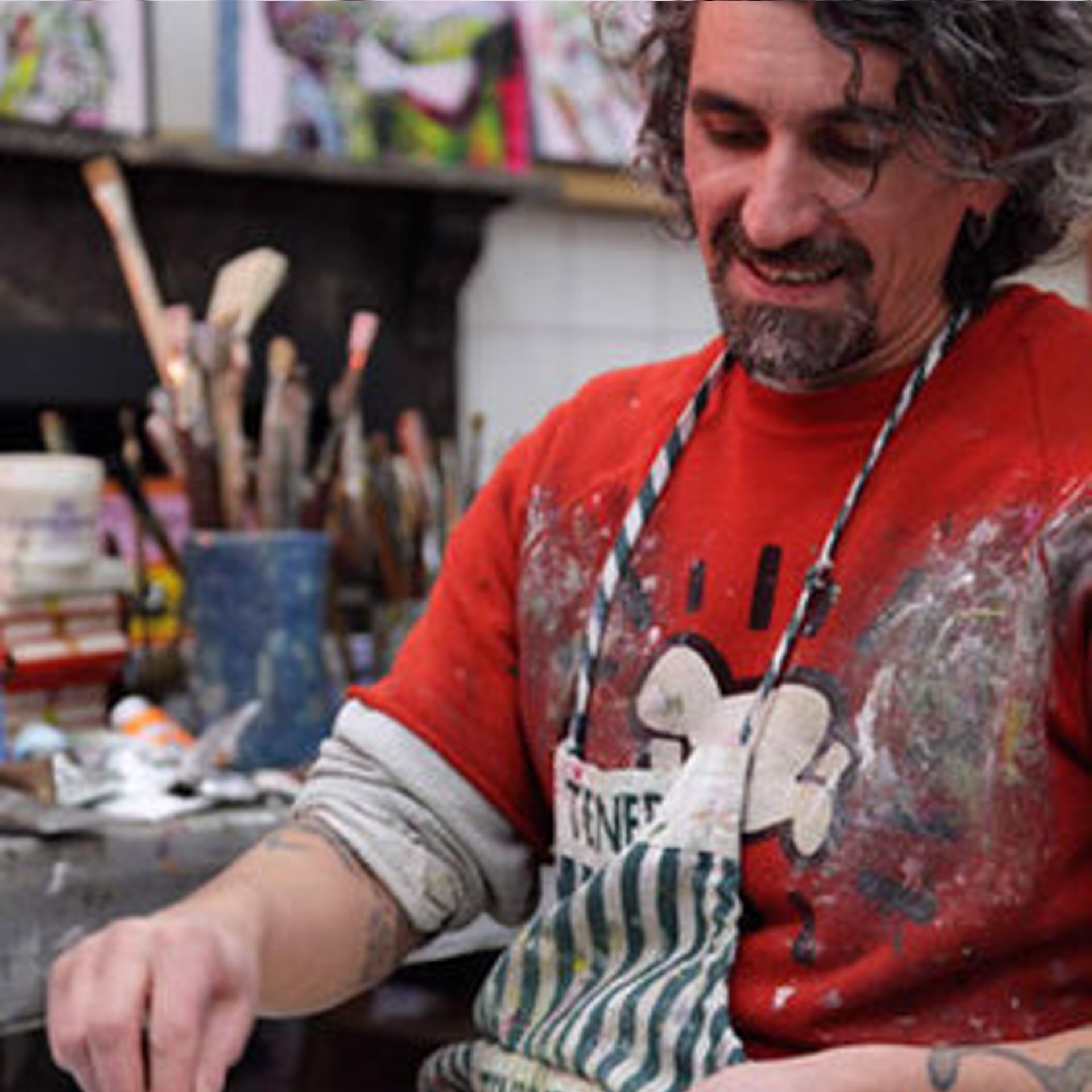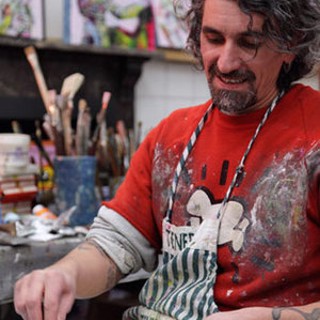 Marco Grassi was born in Milan in 1966. He studied at the Liceo Artistico B. Luini in Canuto and graduated with a degree in architecture in Milan. Today he lives and works in Mariano Comense.
For the past ten years Grassi has been faithful to the figurative style of his work, never allowing this to become an object of fashion or satisfying only a momentary taste. His language and subjects have remained constant and connected to his sense of vision and to the taste of his complex sensitivity. He depicts the fashionable female figure, dynamic color combinations, and a use of lacquering. Subjects have unjustly labeled him a contemporary Pop artist, but where Pop today stands for glamour – all sequins and shine, the dimensions of Grassi's work extend beyond the fashionable.
Grassi's subjects are delicate and attractive, but also energetic and resolute with constant attention to the form, subject, and his color techniques.
His paintings are framed in series – though not in accordance to the canonical sense of this term – which feel the specificity of the moment in which they are painted. They speak quietly of Grassi's mood, his time, story, and out look of the world.
Grassi's subjects are masked in some way, actors and figures, caught in the intense foreground, they tell of events starting from those encrypted by their creator, marked with their expressions, moments which can be traced back to the situations experienced by each viewer. Subject and viewer meet and play the game of their glances.
Regarding the technique, a relevant novelty can be observed. Grassi renounces an element which up until now was a decisive part of the architecture of every part of his work. In his most recent works we witness a complete absence of design: the sure and confident stroke with which he traced outer anatomic lines, showing stability in the whole of the figure, compared to a choice of bold colors which transforms and breaks down under the effect of the spatula and drippings, is less obvious. The figure loses the factor of certainty and sureness, a base which permits it to integrate itself completely in the complex weave of color, now depicted in a more decisive background and efficiently connected to the expression of faces and the intensity of their silence.
SOLO EXHIBITIONS:
2016
"SuperGolden" - Ransom Art - London
"SuperGolden" - Liquid Art System - Capri
2015
"Gold Experience" - Aspen Art Gallery - Aspen
"Superkids" - Gallerie Le Royer - Montreal
"City Girl" - Niche Space - L.A.
2014
"GOLD" - Franco Senesi Fine Art - curated by Marco Izzolino
"Royalty" - Galleria Modì - Mendrisio Svizzera
"GoldGirls" - Komfort Gallery - Kazan - Russia
"Marco Grassi" - Helena Gallery - Ul'janovsk - Russia
2013
"GoldenAmerica" - WFCUSA - Phoenix
"SuperGoldIcons" - San Pietroburgo
"The Gold Experience" - White Room - Capri
"IconKids" - Stella McCartney Space - Milano & New York
"Icons" - Gallery Vavilon - Samara, Russia
"Presenze" - Loft Gallery - Corigliano Calabro - Italy
2012
"Color in retrospect" - Niche Gallery - Los Angeles
"Our Lady" - Franco Senesi Art Gallery - Positano
2011
"Younguys" 3401 Gallery - Miami
"Thirteen" - curated by Igor Zanti - LEO'S Gallery Lugano
"Thirteen" - curated by Igor Zanti - LEO'S Gallery Monza
"SuperHeroes" - Jamel International - Perth Australia
"Why don't you take another little piece of my heart?" - MA11 - Atlanta
"Why don't you take another little piece of my heart?" - WFCUSA - Phoenix
2010
"MarcoGrassi" - Kings Road Gallery - London
"BeMyPrincessAgain" - Gallery White Provision - Atlanta
"BeMyPrincess" - curated by Matteo Galbiati - LEO'S Gallery Monza
2009
"Glamourgrama" - T35 - Milano
"Glamourgrama" - MA09 - Atlanta
"Glamourgrama" - WFCUSA - Phoenix
2008
"Girls Save the Pink" - Galleria Nuovospazio - Piacenza
"Girls Save the Pink" - curated by Stefano Castelli - Villa Sartirana Giussano - Milano
"Pink 4 1 Night" - Stefano Civati Art Consultant - Milano
2007
"Pink Velvet" - curated by Maurizio Sciaccaluga - Novato Arte Contemporanea - Fano
"Kissing the pink" - curated by Matteo Galbiati - Spazio Contemporaneamente - Milano
"La vie en rose" - Galleria Bortone - Parigi
2006
"I LOVE Roma" - Galleria Laura Rossi International - Roma
"SMALL" - curated by Marta Casati - Galleria Magrorocca - Milano
2005
"LOVE me tender" - curated by Paola Noè - Ex chiesa di S. Pietro in Atrio - Como
2003
"Self-service" - curated by Maurizio Sciaccaluga - Galleria Magrorocca - Milano
2002
"New paintings" - AMSTE - Lissone
2001
"Globalislamizzazione" - Studio Garibaldi - Milano
2000
"Metropolitani 2000" - curated by Luca Beatrice - Studio Garibaldi - Milano
GROUP EXHIBITIONS:
2017
"London Art Fair" - London
"Scope" - New York
2016
"Art Miami" – New York & Miami
"Scope" – New York & Miami
"Context" - Miami
2015
"Art Miami" – New York & Miami
"Scope" – New York
"Ritratti" - Galleria doppia V - Lugano a cura di Emma Gravagnuolo
2013
"Art Miami" - Miami
"Art Moscow" - Moscow
"Scope" - New York
"System" - Bellano a cura di Martina Corbetta
2012
"Artshow" - New York
"ArtNow" - Matalon Foundation - Milano
2011
54a Biennale di Venezia - Padiglione Italia curated by Vittorio Sgarbi Venezia
"STORYBOARD" - BonelliLab - Canneto sull'Oglio (Mantova)
"Brutta? No semplicemente unica!" - Teatro Filodrammatici Milano curated by Diego Della Palma e Chiara Argentieri
"Fisionomia di una bellezza impropria" - curated by Matteo Galbiati - Loft Gallery Corigliano Calabro
2010
"Attention! Border Crossing" - Museum of Contemporary Art PERMM - curated by A. Podio e A. Ravizza
"Ritratti" - Comune di Cento (Ferrara) - a cura di A. Riva
Museo Venturino Venturi - Loro Ciuffienna - curated by M. Vanni
2009
"Love Nest" - Revel - Milano
"Undercover" - Galleria Wannabee - Milano
2008
"Contemporary" - Superstudio - Milano
"Convivio" - Milano
2007
"Gimme Five" - curated by Ivan Quaroni - Galleria Novato - Fano
"Film rouge" - curated by Chiara Argentieri - Galleria Grafique - Bologna
"Figurandia" - Galleria La Roggia - Brescia
"La nuova figurazione italiana" - curated by Chiara Canali - Fabbrica Borroni - Bollate
"Curve Pericolose" - curated by Maurizio Sciaccaluga - Bastioni Porta Venezia - Milano
"Bonelli Lab" - Canneto sull'Oglio - Mantova
"Danze macabre" - galleria Triangolo - Bergamo
2006
"Allarmi2" - Como
"Bang Bang my baby shot me down" - curated by Maurizio Sciaccaluga - Galleria Novato - Fano
"L'Arte nell'uovo di Pasqua" - Complesso monumentale del Vittoriano - Roma
"Profumo di donna" - curated by Maurizio Sciaccaluga - Galleria del Tasso - Bergamo
2005
"Seven...everything goes to hell" - curated by Maurizio Sciaccaluga - Palazzo Pretorio - Certaldo
2004
"Quattro artisti per un premio" - Roberta Lietti Arte Contemporanea - Como
"Le dinamiche del volto" - Palazzo Ducale - Pavullo nel Frignano
"Girotondoilmondolaterraperterra" - Galleria Magrorocca - Milano
2003
"Cluedo" - curated by Maurizio Sciaccaluga - Image Furini Arte Contemporanea - Arezzo
"Tattoo" - Bonelli Arte Contemporanea - Mantova
"Specchio" - curated by Emma Gravagnuolo - Galleria Guidie Shoen - Genova
"Contemporanea Giovani" - Ex Ticosa - Como
Read More